Introduction:
Please email sales@mfactors.com for any inquiries
Six Steps for NRE! Then contact M-Factors Storage!
---
PCB


# of Layer, Thickness, Size, Gold Flash




Interface #1 : Upstream / Host Side
Gold Finger : PCIe, M.2 (NGFF)
Connector: USB3.0/2.0, SATA, mSATA, mPCIe, etc


Interface #2 : Downstream / Peripheral


PCIe, M.2, USB3.0/2.0, SATA, mSATA, mPCIe, etc




LSI Controller (*If necessary)


PCIe-SATA, USB3.0-SATA, PCIe-SD, USB Hub, etc




Power (* If necessary)
Regulators: DC-DC (Step-up / Step-Down), LDO
Connectors: FDD4pin, HDD4pin, DC-Jack, etc


Miscellaneous


LED, Jumper Header, Slide Switch, etc
* When we develop as standard product, NRE is FREE!
* NRE includes 2 samples and shipment fee.
* Please refer price list and component list for NRE.
* Bplus will support you to choose LSI and Power!
* NRE : Minimum USD500
* Unit Price will be provided separately.
Order Flow:
Please choose specifications (PCB, interfaces, power etc.)
Self-service for calculating NRE (one-time development cost)
- Please refer price list and component list.
Contact to MFactors Storage for assistance, if necessary.


-sales@mfactors.com




Contact to our sales:

sales@mfactors.com


Mass Production Schedule and Quantity.
- ex. 100pcs/month
M-Factors Storage provides FREE consultant service.
- Discuss to blush-up specification together.
- M-Factors Storage provides rough Product Image.
- More accurate NRE.


Quotation:
M-Factors Storage will provide;
- Final NRE: including 2 samples & shipping fee.
- Unit Price
- Schematic (PDF)
- 3D Drawing (PDF) : if necessary


Order & Payment


Payment: Paypal, Credit Card or Bank Wire




Wait for product: Standard 4-6 weeks


Two-Three weeks for PCB design – Check together




Two-Three weeks for manufacturing. (PCB & SMT)
NRE Example #1 : MP220 : USD710
PCB, 2 Layer 64x60(mm), Price *1.5 =

Host Interface, PCIe x1 Gold Finger:

100

Periperal Interface, SD Connector:

50

LSI Controller: PCIe-SD=150, EEPROMx2 = 50*2 =

250

Power: LDO3.3V-1.8V =

100

Miscellaneous:

60


LED x2 = 10 x2 =

20


Header = 10 x3 =

30


Slide Switch =

10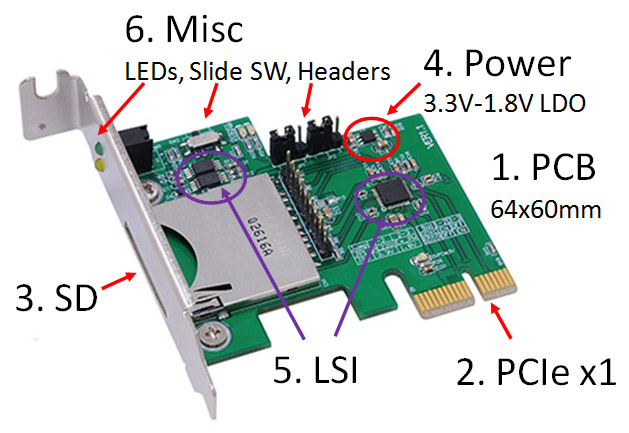 * To estimate NRE, please refer price list and component list
* Product Unit price will be calculated by BOM and peripherals (such as PCIe Bracket)
NRE Example #2 : P4SM2 : USD480 (min. 500)
PCB, 2 Layer 22x80(mm), Price*1:


Host Interface, M.2 Gold Finger: 150

Peripheral Interface, PCIe X4 Connector: 150
LSI Controller: None =0
Power: FDD4pin =

50

Miscellaneous:

30


LED x1 = 10 x1 =

10


Header Pin = 10 x1 =

10


Postal Holes = 10 x1 =

10