Product Overview
MR04 (MiniCard adapter for SD Card)
Introduction:
MR04 MiniCard adapter for SD card is very low-cost SSD and Ready-boost solution for laptop computers. Your SD cardcan easily into the MiniCard slot of newer laptops or embeddedwith MR04 mini-card adapter.
MR04 was the best of the external drives. Solid State Drive (SSD) that delivers extra memory and reliably backs up your important data without cables and the protrusion of other, more awkward external storage devices.
MR04 is a USB 2.0 SD/MMC Flash Card Reader single slot. It supports USB 2.0 high-speed transmissionto Secure DigitalTM(SD), SDHC, SDXC, miniSD, microSD (T-Flash), MultiMediaCardTM(MMC), RS-MMC,MMCmicro, MMCmobile on one chip. As a single chip solution for USB 2.0 flash card reader.
Features
Use Genesys Logic GL823 single chip.
Designed for use with laptop or embeddedcomputers.
Super low power consumption and light weight, comparing to traditional HDDs speed and computer configuration.
Compatible with Windows and Linux.
SD card Capacity: up to 32GB
Compatible with SDXC card; up to 2TB
Specifications:
PCI Express Mini Card Electromechanical Specification 1.0 (Use USB type)
Internal Hi-Speed(480Mbps), with Universal Serial Bus Revision 2.0
Compliant with Universal Serial Bus Device Class Definition for Mass Storage Class Bulk Only Transport Ver1.0
Compliant with SD Memory Card Specification Version 2.0
Compatible with SDXC
Compliant with MultiMediaCard Specification Ver 4.2
OS Support:
Operating system supported: Windows 7/Vista32&64/XP/2000/Me/98/98SE, Mac OS 9.X/10.X, Linux
Kernel 2.4.X/2.6.X
- Pass Windows Vista/ Windows 7 (Submission ID: 1355289)
- USB-IF Logo (Submission TID: 40000940)
Note:
MR04 is standard USB mass storage device. Design for Extension/Secondary HDD. Application for readyboost and backup/Storage function.
Basically, MR04 can't bootable to Windows XP/Vista.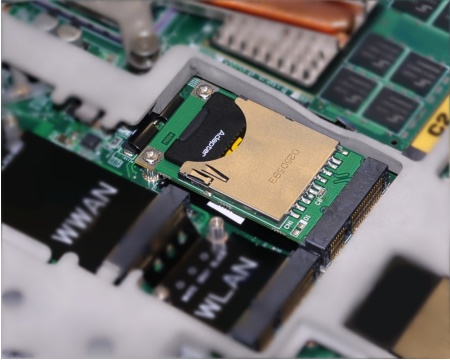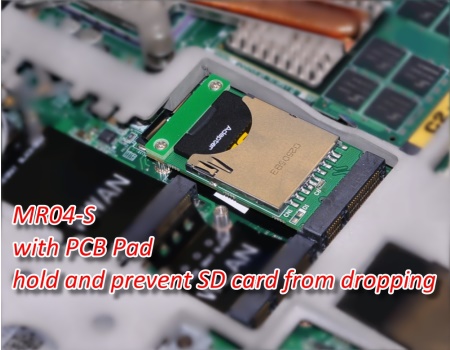 MR04

Package Contents

Unit price: US$ 20


MR04 (MiniCard adapter for SD card) x1

Screw x2